Pocket Wi-Fi rental is essential for international travelers in Japan.
Easy to pick up & return. Our mobile hotspot will make your trip much easier!
Alejandro Varrente
2023-12-04
Great service, easy to use, easy to drop. Highly recommend it.
Scott Rodabaugh
2023-12-04
Device worked perfectly. Pick up and return was also easy.
Not only does the hotspot work perfectly, more importantly, the individuals in customer service are truly the best I've ever worked with. They are SO responsive and so nice that I couldn't rate them any higher. The problems I incurred were 100% my fault and yet they treated me WONDERFULLY!!!!
Jacqueline van Bree
2023-11-28
Smooth transaction!
Keo Rainsy PHAN
2023-11-27
Le pocket wifi bien servi. Mais chauffe vite et parfois il ne captait pas bien et la charge ne durait que 1 jour. Mais c'est un objet qui reste bien pratique pour une petite famille !
No problem ! Worked perfectly at any moment any place.
Philippe Desmons
2023-11-22
Personnel accueillant et à l'écoute.
Have been using GAC for the past few visits of Japan and the experience is good. Always manage to get my pocket Wifi on time (Whether it's from airport or Hotel) and the data and device have been working good.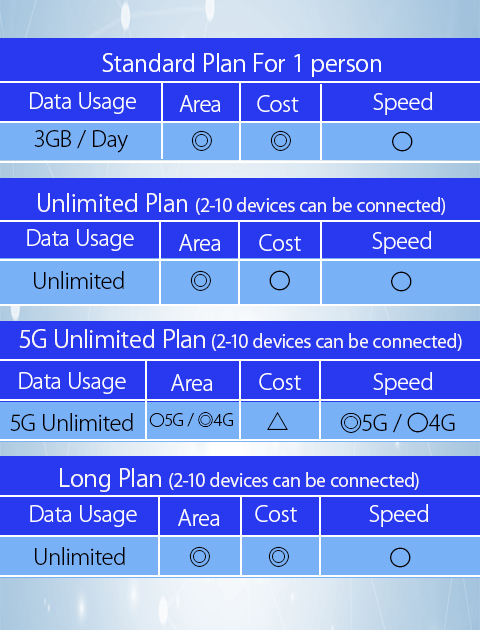 Ohter countries to Japan Travelers:
Get Reliable Pocket Wi-Fi
What is Pocket Wi-Fi?
Pocket Wi-Fi is a portable device that offers easy-to-carry high-speed internet connectivity. It works all across Japan, allowing you to connect multiple devices, including smartphones, tablets, and laptops. Whether you're exploring tourist attractions, dining at restaurants, staying in hotels, or even riding the subway, you can enjoy seamless communication.
Recommended Pocket Wi-Fi for Travelers from Ohter countries
We recommend reserving a pocket Wi-Fi before your arrival in Japan to ensure a smooth pickup at the airport and instant access to reliable connectivity. At Global Advanced Communications, we offer special plans tailored for travelers from Ohter countries, providing high-speed and stable internet access to minimize stress during your trip.
Benefits of Pocket Wi-Fi
Available Anywhere in Japan: Stay connected no matter where you are, from tourist hotspots to rural towns.
High-Speed and Stable Connection: Pocket Wi-Fi delivers fast and reliable internet, perfect for streaming videos and online gaming.
Device Versatility: Connect multiple devices, including smartphones, tablets, and laptops.
Data Sharing: Share data with your companions to enjoy a seamless group travel experience.
To make your trip to Japan more comfortable and enjoyable, consider booking pocket Wi-Fi through Global Advanced Communications. Smart communication is the key to a fantastic travel experience for travelers coming from Ohter countries
Social Networking Service